Rémi Coulom's Home Page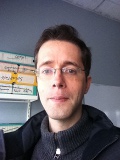 Welcome to my home page. I have been working at Kayufu since 2014. My e-mail address is R e m i . Coulom at gmail dot com.
On this page, you'll find some of my software and papers. I also post news on Facebook, and Twitter.
In the past, I was Associate Professor of Computer Science at the Lille 3 University, and a member of the SequeL research group.
I am hosting the Game AI Forum, goratings.org, the ICGA Tournaments database, and Crazy Sensei.
Software
Chess

Game of Go (Weiqi, Baduk)

Othello / Reversi

Hanafuda (花札)

Japanese Mahjong (麻雀)

Motor Control
joedb
Publications and Conference Presentations
Statistics on Game Outcomes
Game Programming
Reinforcement Learning and Motor Control