Crazy Stone
Crazy Stone is a top-level program that plays the game of Go (Weiqi, Baduk), by Rémi Coulom.

Commercial Versions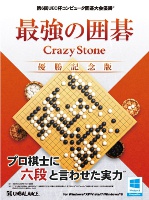 Crazy Stone is distributed commercially by Unbalance Corporation. It is available for various platforms and languages, as indicated in this table:
If you have any problem buying or using Crazy Stone, please contact Unbalance, not me.
History
2016-03-21: Crazy Stone took the third place of the UEC Cup. It is considerably stronger thanks to deep learning. It reached 7d on KGS, and entered the KGS top 100!
2015-03-21: Crazy Stone won the UEC Cup, and lost a 3-stone game against Cho Chikun in the Densei-sen.
2014-03-24: Recently, Crazy Stone established a solid 6-dan rank on KGS, took the second place of the 7th UEC Cup, and won in the Densei-sen in a 4-stone game against Norimoto Yoda.
2013-03-20: Crazy Stone won a H4 game against Yoshio Ishida 9p during the First Densei-sen.
2013-03-17: Crazy Stone is in good shape: after winning four KGS tournaments in a row, it won the 6th UEC Cup.
2012-08-02: Crazy Stone played two H4 games against Catalin Taranu 5p during the European Go Congress. Crazy Stone won the first game, and lost the second game.
2011-11-26: established a solid 5d rank on KGS (see its rank graph).
2011-04-23: first victory against human 5d on KGS, a game commented by Alexandre Dinerchtein (3p).
2008-12-14: won the second edition of the UEC Cup and a H7 game against Kaori Aoba (4p).
2008-09-04: won a H8 game against Kaori Aoba (4p), during the FIT2008 conference in Tokyo, Japan.
2008-08-06: won the 19x19 tournament of the European Go Congress.
2007-12-02: won:
2007-06-19: participated in the 12th Computer Olympiad:
2006-06-02: won the gold medal of the 11th Computer Olympiad (9x9).
2005-09-04: participated in the Sixth KGS Computer Go Tournament.
Acknowledgements
The development of Crazy Stone was carried out using the Grid'5000 experimental testbed, an initiative from the French Ministry of Research through the ACI GRID incentive action, INRIA, CNRS and RENATER and other contributing partners (see https://www.grid5000.fr)
The development of Crazy Stone also used computational power provided by the COCOA/FEDER project.
Links