Crazy Stone
Crazy Stone is a program that plays the game of Go (Weiqi, Baduk), by Rémi Coulom.
Commercial Versions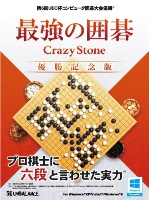 Crazy Stone is distributed commercially by Unbalance Corporation. It is available for various platforms and languages, as indicated in this table:
If you have any problem buying or using Crazy Stone, please contact Unbalance, not me.
History
Acknowledgements
The development of Crazy Stone was carried out using the Grid'5000 experimental testbed, an initiative from the French Ministry of Research through the ACI GRID incentive action, INRIA, CNRS and RENATER and other contributing partners (see https://www.grid5000.fr)
The development of Crazy Stone also used computational power provided by the COCOA/FEDER project.
Links